*UPCOMING SOON-TO-BE RELEASED LIST*
*Reverse Harem Readers please see Upcoming RH Releases (Reverse Harem Only) page at the top*
CLICK ON BOOK TITLE TO BE TAKEN TO THE AMAZON PAGE FOR PRE-ORDER
JUNE 2017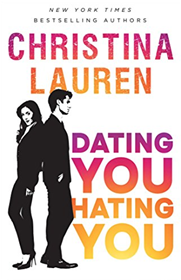 Despite the odds against them from an embarrassing meet-awkward at a mutual friend's Halloween party, Carter and Evie immediately hit it off. Even the realization that they're both high-powered agents at competing firms in Hollywood isn't enough to squash the fire.

But when their two agencies merge—causing the pair to vie for the same position—all bets are off. What could have been a beautiful, blossoming romance turns into an all-out war of sabotage. Carter and Evie are both thirtysomething professionals—so why can't they act like it?

Can Carter stop trying to please everyone and see how their mutual boss is really playing the game? Can Evie put aside her competitive nature long enough to figure out what she really wants in life? Can their actor clients just be something close to human? Whether these two Hollywood love/hatebirds get the storybook Hollywood ending, or just a dramedy of epic proportions, you get to enjoy Christina Lauren's heartfelt, hilarious story of romance in the modern world.

He's always looked to the stars

Now she's the brightest light in his universe.
Brilliant astrophysicist Dr. Owen Shaughnessy feels more connected to the cosmos than to people. He's great with calculations, but when he leads a team of scientists to study a famous meteor shower, he doesn't factor in his free-spirited artist assistant Brooke Matthews.


Polar opposites in personality, the friction between Owen and Brooke threatens to derail the project. But the beauty and mystery of the night sky draw them together—and she's going to surprise him in ways the stars never could.
"A sweet romance that takes its time to court the reader: classic, thoughtful, and sometimes as lyrical as the stars." —Kirkus Reviews
The stars are about to align in the newest Shaughnessy Brothers romance!
Step into the Honey Club, where every sensual boundary will be tested in search of the ultimate pleasure…
Branch doesn't exist. Living off the grid, he's looking for a way to forget his past and the guilt that plagues him. But no woman has ever been able to bring him to the edge he craves.
After a traumatic experience of her own, Evangeline stepped away from the decadent world of the Honey Club. But when she gets Branch's offer—to play without boundaries or commitments—it's too tempting for her to refuse.
As their passion ignites, Evangeline and Branch push each other to their farthest limit, fulfilling their darkest desires while falling harder and deeper than they ever imagined.
THE SERIES WITH OVER 12 MILLION COPIES SOLD
Volume 1 in the new series by New York Times Bestselling Author H.M. Ward

My life is a lie. Terror courses through me at the thought of someone discovering my secret before I have a chance to figure things out, before I know for certain what happened that night. I can admit it, I ran like a coward and didn't look back. No one expects me to be down here in the dust bowl of the forsaken, in the middle of Texas.

Three months have passed in startling silence since I left New York behind. There's been no trace, no trail, nothing that points to this safe haven. Reporters haven't figured out the girl they've been trailing in Manhattan isn't me. Thank God.

Down here, I've kept my head down. No one knows what I've done. They can't. But four simple words make my heart slam into my chest. The air is ripped from my lungs as I stare at the glowing computer screen.
I KNOW YOUR SECRET.

Genre: Romantic Suspense, approx 100 pgs ea
~Vol 1 of 5~

THE FERRO FAMILY

The Arrangement (Sean & Avery)
Damaged (Peter & Sidney)
Stripped (Jon & Cassie)
The Proposition (Bryan & Hallie)
Easy (Joscyln Ferro)
Broken Promises (Trystan & Mari)
The Wedding Contract (Nick & Sky)
Secrets & Lies (Kerry)
June 8
Hard Work Will Pay Off Later. Laziness Pays Off Now.

Let's get one thing straight - Ivy Wilde is not a heroine. In fact, she's probably the last witch in the world who you'd call if you needed a magical helping hand. If it were down to Ivy, she'd spend all day every day on her sofa where she could watch TV, munch junk food and talk to her feline familiar to her heart's content.

However, when a bureaucratic disaster ends up with Ivy as the victim of a case of mistaken identity, she's yanked very unwillingly into Arcane Branch, the investigative department of the Hallowed Order of Magical Enlightenment. Her problems are quadrupled when a valuable object is stolen right from under the Order's noses.

It doesn't exactly help that she's been magically bound to Adeptus Exemptus Raphael Winter. He might have piercing sapphire eyes and a body which a cover model would be proud of but, as far as Ivy's concerned, he's a walking advertisement for the joyless perils of too much witch-work.

And if he makes her go to the gym again, she's definitely going to turn him into a frog.
June 13
"Filthy, fun, and filled with heart. Hot Cop is going on my re-read shelf." - Audrey Carlan, #1 NYT Bestselling author

You have the right to remain sexy.

Anything you say can and will be used to get you in my bed.

You have the right to use my body to give yourself a delirious, life-changing orgasm.

If you have trouble...don't worry, I'm a bit of an expert in that department.

There's nothing 'thin' about my blue line, if you catch my drift, and trust me, I know how to put those handcuffs to good use.

***

Livia Ward wants a baby before she's thirty. And even though Officer Chase Kelly is exactly the kind of cocky jerk this librarian has sworn off, he is undeniably hot. Both of them think they can give each other what they want--a few nights of fun for Officer Kelly, a no-strings baby for Livia--but this hot cop is about to learn that sex, babies, and love don't always play by the rules.

"F*cking delightful." - Melanie Harlow, USA Today Bestselling author
He carries a big stick. And he's not afraid to use it.
On the ice, I'm Kellan Carter, powerhouse enforcer for the Charlotte Strikers. Off the ice, I'm just a regular guy. The last thing I want is to get mobbed by a bunch of groupies who are only after me for my fame and money. My ideal woman knows how to enjoy a little good, clean fun—and maybe some not-so-clean fun too. That's the kind of girl I'd never let go.
When Kristen Robinson, the gorgeous, down-to-earth bartender I've been crushing on, agrees to let me take her out, I'm thrilled. We have an amazing night together, culminating in the most electrifying kiss of my life—and that's it. Kristen tells me we can't see each other again, but I know that kiss meant as much to her as it did to me. What I don't know is that Kristen has a dangerous secret. . . .
I've proved to Kristen that she can trust me with her body and her heart. But when her past comes back to haunt her, I need to prove that she can trust me with her life. And I might have to get my hands dirty after all.
Don't miss these heartwarming Second Chances romances from New York Times bestselling author L. P. Dover:
CATCHING SUMMER | DEFENDING HAYDEN | INTENDED FOR BRISTOL
"L. P. Dover knows how to create the men who make us swoon, the book boyfriends we all want."—New York Times bestselling author Heidi McLaughlin
Advance praise for Hard Stick
"L. P. Dover did a great job with this book and if you know going into that it has more of a suspenseful love story, you might not be so surprised. I recommend this book. I couldn't put it down."—Wicked Love of Books
"I loved this book! A great romantic/suspenseful story with a HEA (and it also involved sports which is always a plus with me). I really liked the author's style of writing."—Rebel Spinster (five stars)
"Hard Stick may have been my first L. P. Dover novel, but it won't be my last. I am so excited to see what's next in the Breakaway series."—A Novel Glimpse
This ebook includes an excerpt from another Loveswept title.
Book Two in Shayla Black's sexy and emotional contemporary romance series More Than Words…

I'm Griffin Reed—cutthroat entrepreneur and competitive bastard. Trust is a four-letter word and everyone is disposable…except Britta Stone. Three years ago, she was my everything before I stupidly threw her away. I thought I'd paid for my sin in misery—until I learned we have a son. Finding out she's engaged to a bore who's rushing her to the altar pisses me off even more. I intend to win her back and raise our boy. I'll have to get ruthless, of course. Luckily, that's one of my most singular talents.

Sixty days. That's what I'm asking the gritty, independent single mother to give me—twenty-four/seven. Under my roof. And if I have my way, in my bed. Britta says she wants nothing to do with me. But her body language and passionate kisses make her a liar. Now all I have to do is coax her into surrendering to the old magic between us. Once I have her right where I want her, I'll do whatever it takes to prove I more than need her.

This book is the second in the More Than Words series. The books are companions, not serials, meaning that backstory, secondary characters, and other elements will be easier to relate to if you read the installments in order, but the main romance of each book is a stand-alone.

This book contains lines that may make you laugh, events that may make you cry, and scenes that will probably have you squirming in your seat. Don't worry about cliffhangers. HEA guaranteed! (Does not contain elements of BDSM or romantic suspense.)

Reading Order:
Book One - More Than Want You
Book Two - More Than Need You
Book Three - Coming Soon
June 20
A sexy new standalone contemporary romance by NYT and USA Today bestselling author Katy Evans.

He wasn't always this rich. This hot. This difficult.
Aaric Christos was a guy who protected me. Wanted me. Maybe even loved me.
That man is gone.
In his place is the most powerful real estate tycoon in the city.
He's a cold, ruthless, aggressive businessman.
The only one who can save me and my startup from ruin.
It takes every ounce of courage to put my pride aside and ask for his help.
I didn't expect him to offer it easily.
And he doesn't.
Instead, he vets me harder than he's vetted anyone.
Don't invest in what you don't know, he says.
He's assessing every piece of me, to the point I've never felt so bare.
I yearn for the boy I once knew, whose touch once craved me.
Putting it all on the line will be worth it, I tell myself.
Until I realize—too late—that some risks are not worth taking.
The New York Times and USA Today bestselling author of the Marked Men books continues her delightfully sexy Saints of Denver series.
Hudson Wheeler is a nice guy. Everyone knows it, including his fiancée who left him with a canceled wedding and a baby on the way. He's tired of finishing last and is ready to start living in the moment with nights soaked in whiskey, fast cars, and even faster girls. He's set to start living on the edge, but when he meets Poppy Cruz, her sad eyes in the most gorgeous face he's ever seen hook him in right away. Wheeler can see Poppy's pain and all he wants to do is take care of her and make her smile, whatever it takes.

Poppy can't remember a time when she didn't see strangers as the enemy. After a lifetime of being hurt from the men who swore to protect her, Poppy's determined to keep herself safe by keeping everyone else at arm's length. Wheeler's sexy grin and rough hands from hours restoring classic cars shouldn't captivate her, but every time she's with him, she can't help being pulled closer to him. Though she's terrified to trust again, Poppy soon realizes it might hurt even more to shut Wheeler out—and the intense feelings pulsing through her are making it near impossible to resist him.

The only thing Poppy is sure of is that her heart is in need of some serious repair, and the more time she spends with Wheeler, the more she's convinced he's the only man with the tools to fix it.
"I adore Kristen Ashley's books!"---Maya Banks, New York Times bestselling author

All you need is a little luck.

Lexie Berry has had nothing but bad luck. You name it, Lexie has probably survived it-or worse. But there's only so much bad luck a girl can take, and now one promise is all that stands between her and a brand-new life.

When that promise brings her to Carnal, Colorado, Lexie isn't sure the rough, yet strangely charming, town is for her. But there's something Carnal has that might just make staying around worth it . . . and that's Ty Walker.

For five years, Ty was imprisoned for a crime he didn't commit. Now he wants revenge on the people who framed him. Lexie knows there's a difference between vengeance and justice, and she'll do everything she can to make sure Ty gets the latter. And with the good people of Carnal on their side, Lexie and Ty might finally find their luck is changing for the better.
Passion and danger collide in the latest contemporary romance featuring the Lawless siblings—from New York Times bestselling author Lexi Blake.

When Drew Lawless discovers a fatal flaw in his plan to avenge his parents' deaths, he turns to the one woman he promised he wouldn't touch. He offers her a deal, one that will bring her into his investigation, his life, and his bed.

Investigative reporter Shelby Gates never dreamed how twisted the case would become—or how fascinated she would be with Drew. Every day they spend together binds them. And every night brings her closer to realizing he might be the man for her.

As Drew's feelings for Shelby grow, so does the danger. From the streets of Dallas to Austin's high-tech business world, Drew and Shelby play a game begun twenty years before—a game they will win, or die trying.
June 27
"Tucker is adept at spinning stories with hot romance, unexpected twists and turns, and a strong, independent female lead who is not afraid to take charge, who is not perfect—which is why she feels so real." —Toronto Star

Twenty-four-year-old truck stop waitress and single mother Catherine Wright has simple goals: to give her five-year-old daughter a happy life and to never again be the talk of the town in Balsam, Pennsylvania (population three thousand outside of tourist season).

And then one foggy night, on a lonely road back from another failed date, Catherine saves a man's life. It isn't until after the police have arrived that Catherine realizes exactly who it is she has rescued: Brett Madden, hockey icon and media darling.

Catherine has already had her fifteen minutes of fame and the last thing she wants is to have her past dragged back into the spotlight, only this time on a national stage. So she hides her identity. It works. For a time.

But when she finds the man she saved standing on her doorstep, desperate to thank her, all that changes. There's an immediate connection, and it's more electric than the bond of two people who endured a traumatic event. It's something neither of them expected. Something that Catherine isn't sure she can handle; something she is afraid to trust.

Because how long can an extraordinary man like Brett be interested in an ordinary woman like Catherine...before the spark fades?
The Boudreaux Series—Sexy. Intriguing. Easy.

No one said change was easy…

Savannah Boudreaux knows what it is to hurt. To bleed. To be afraid that the man she's promised to be true to until "death do us part" might in fact separate them far sooner than anyone had ever anticipated. But Van also knows what it is to survive. To move on. To live life to the fullest. With five brothers and sisters and a loving mother as her constant source of strength during the pain and the healing, Van realizes there is little else she needs.

But some things never change…

Benjamin Preston sat on the sidelines of the Boudreaux family for years, in love with a woman he couldn't have. As the best friend of the Boudreaux brothers since childhood, Ben has seen both tragedies and joys in the family. And as a former MMA fighter and Krav Maga expert, Ben's used to fighting for what he wants—and winning. His hands were tied when Savannah married her college sweetheart not long after graduation, but now two years have passed since Ben found Savannah broken in her own home.

Sometimes what you need most has been right in front of you the whole time…

Van's convinced that happiness isn't in the cards for her, no matter how right it feels to be in Ben's strong arms—and his bed. Ben is determined to win her heart and fight for her trust. He's promised to protect her, to be her friend. But more than anything, he wants to finally make her his, and this is one fight he's not willing to lose.
The highest stakes...

My father gambles every night, falling deeper and deeper into debt. When he hits the bottom, he places a new bet: his daughter. I'm his entry bet to the biggest underground poker game.

The players are politicians and mafia men, every kind of danger around a velvet-covered table. But it's only one man who makes me shake.

The man I once thought I loved.

The man who betrayed me.

His eyes meet mine with dark promise. And when he puts down his money, I know I'm going to lose more than my body. I'm going to lose everything.

THE KING is a spin-off novel of the USA Today bestselling Endgame series about Damon Scott.
The mafia men of New York Times bestselling author Sarah Castille's Ruin & Revenge series are hard, hot, and ruthless. They show no weakness and take no prisoners. But the right woman can soften their stone cold hearts and make them come alive with dark desire.
Luca Rizzoli was nearly destroyed by a brutal betrayal that cost him his family. Now a ruthless crime boss in Las Vegas, he lets nothing touch his frozen heart...until a smoldering encounter with a beautiful stranger ignites his passion. One night isn't enough for a man who takes what he wants—and Luca will do whatever he can to possess his mysterious temptress...
Police detective Gabrielle Fawkes lives for revenge. She lost everything at the hands of an unforgiving ruler of the Vegas underworld. Now she wants to see him six feet under. But when a near-fatal attack leads her into Luca's arms, what was meant to be one night of unbridled passion becomes something forbiddingly more. Luca has his own agenda, but when strong, determined, kick-ass detective Gaby sets her sights on her target, Luca feels compelled to stand by her side and protect her at all costs. However, pursuing danger comes at a high price—and both Gaby and Luca must work together in order to eliminate the dark enterprise that threatens them, in Luca by Sarah Castille.
JULY 2017
July 4
Knox and Harper's story continues as the Las Vegas lair - and its two infamous Co-Primes - face their most terrifying enemy yet . . .
Together, Harper and Knox have overcome just about every evil thing you can think of - from Horsemen of the Apocalypse to dark magic practitioners to Lucifer's insistent belief that he's hilarious. They're looking forward to some well-earned downtime - until Harper is attacked by mercenaries in the middle of her tattoo shop. Worse still, the attackers are trying to take her wings - the ones no one is meant to know she even has.
It's a near miss and once a furious Knox has managed to pull his demon back into line there's only one thing clear - someone knows Harper's secrets and is systematically setting out to destroy her. It seems likely that someone is the third Horseman - but how do they know so much about Harper? It seems the impossible might be true - they have an enemy hiding at the very heart of the lair.
To survive Harper will need to embrace power that's darker than she's ever experienced and even Knox can't protect her from everything - though God knows nothing's going to stop him trying. The stakes have never been higher, for if Harper's taken by this new threat, Knox won't be able to stop his demon from taking a vicious pleasure in tearing the world apart . . .
-To be updated-